Paddles
Why ZRE Paddles?
Faster, Lighter, Stronger, Better – Since 1973
Since 1973, ZRE has been producing high-quality paddles for canoeing, outrigger, whitewater, dragon boat, and stand-up paddling.
Our carbon fiber paddles are strong and super-light, so you can go faster with less fatigue and enjoy your paddling sport even more.
Paddles for Every Sport
Stand-Up – Our SUP paddles are popular among top pros.
Dragon Boat – Lightweight, race-winning paddles for dragon boat enthusiasts.
Outrigger – Wider blades for ocean paddlers.
Whitewater – Designed by national slalom champion Harold Deal.
Flatwater – Serious flatwater canoe paddle for racing canoeists.
Recreational – Top-quality canoe paddle for weekend warriors.
Construction
ZRE paddles are constructed as follows:
GRIP – Made with 100% carbon fiber/epoxy. These three-piece ZRE paddles with hollow grips fit comfortably in your palm with their ergonomic dimple pattern and finger recess.
SHAFT – Every ZRE paddle shaft is hollow and crafted to custom lengths at 1/32-inch intervals. Smoother shaft-to-blade transition for cleaner entry/exit.
All our shafts are made of 100% prepreg carbon fiber and are centerless wet sanded to a super-smooth, polished finish.
BLADE – All ZRE paddles have angled, super-durable foam core blades with computer-balanced weighting.
Blades are foiled to minimize turbulence, providing the smoothest entry/exit in the industry. Perfectly symmetrical for a smoother, more natural rhythm. Sharpened shoulders for a super-efficient, close-to-the-keel-line power stroke.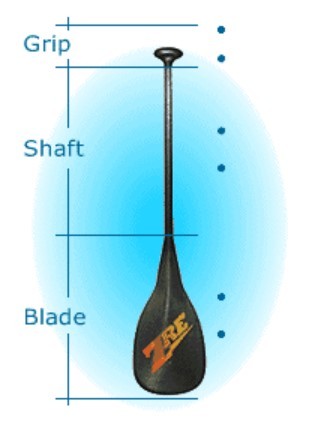 Technology
ZRE has adapted two aerospace technologies to manufacture our lightweight canoe paddles.
Pre-Impregnated (Prepreg) Carbon Fiber – The lightest and strongest paddle material available. 100% high-modulus, pre-impregnated carbon fiber, otherwise known as graphite. The very same carbon fiber they make Formula1 Grand Prix racecar bodies out of.
100% Carbon Fiber Cloth with Epoxy – Slightly heavier than prepreg and just as durable.
This is why we say they are "Faster, Lighter, Stronger, Better."
For years, we have stood alone as the paddle of choice for some of the world's most elite racers and enthusiasts, including canoe racers, SUP paddlers, dragon boat athletes, and whitewater athletes. Contact us today for more information.